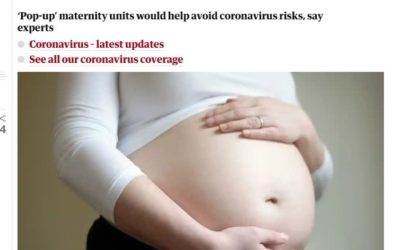 Article in "The Guardian" 1st April 2020 – NHS urged to turn hotels into birth centres during crisis
'Pop-up' maternity units would help avoid coronavirus risks, say experts.
Hotels should be used as "pop-up" birth centres with retired and student midwives drafted in to support NHS staff, maternity experts recommend in a bid to help expectant mothers stay away from hospitals amid the coronavirus pandemic.
The call comes as the charity Birthrights warned that the withdrawal of homebirth and birth centre services could be unlawful and lead health trusts to be responsible for significant risk to life if women choose to give birth without medical assistance.
Read the full article here – https://www.theguardian.com/society/2020/apr/01/nhs-urged-to-turn-hotels-into-birth-centres-during-coronavirus-crisis?fbclid=IwAR3Ri4yTrfXtVYtYXf317Co2szlh-6lY_I-n7mUOzKpTBIwvSp7gcgBDwjQ